Meet Clarence Mamaril, an active ACCPF Member since 2016. We asked Clarence his thoughts on the value of becoming an ACCPF member, he shared the following.
"While American Canyon residents can enjoy the outdoors on their own, it's a much better communal experience when our parks and open spaces are shared with people who love nature like the folks at ACCPF. I've learned a lot about American Canyon's plants and wildlife through various hikes and events hosted by ACCPF, made friendships with the coolest people over coffee mornings, and gained a deeper appreciation of nature through my ACCPF membership."
We always look forward to seeing Clarence's smiling face at ACCPF's community events! Thank you Clarence for your support of ACCPF and being a valued member of our community.
Meet Joe Schunk, an ACCPF Lifetime Founding Member. Joe is an active member of the American Canyon community and enjoys "spending time outside as it settles the mind and allows him to experience a larger simpler world, beyond the buzz of everyday commitments."
Joe's favorite place to explore in American Canyon is the trails along the Napa River. If you see Joe & his dogs out on the trail, be sure to say hello!
Meet Heather Keffer, a loyal ACCPF Member since 2016. We asked Heather to share which ACCPF hosted community events are her favorite to attend.
"My hands down my favorite event is The Evening at the Ruins. It's a wonderful way to come together as a community to support the outdoor programs the ACCPF develops. My second favorite event is Hearts Your Parks. I love meeting local artists, of all ages, while supporting the ACCPF in the creative ways they enhance our city."
Heather and her family business, Cole's Chop House, are generous supporters of ACCPF! Thank you Heather for being a valued member of the ACCPF community.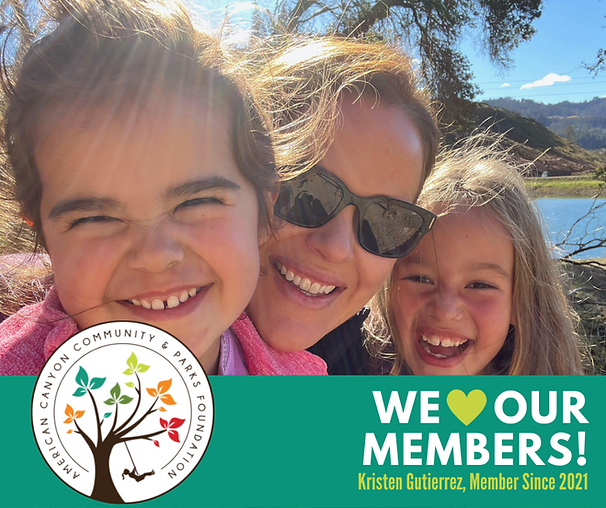 Meet Kristen Gutierrez, an active ACCPF Member since 2021. We asked Kristen to share why spending time outdoors is important to her and her family.
"Our family loves spending time in nature because it's a good way for my kids to get some energy out, turn off the screens, and appreciate the beauty around us! It's an instant mood booster. We especially like going for bike rides and walks at Wetlands Edge.
Everyone should be a member of ACCPF because their work and programs benefit everyone in AC and are a big reason our little, but mighty community is so special!"
We couldn't agree more about our little, but mighty community being a special place to live & recreate! Thank you Kristen for being a valued member of the ACCPF community.